English to Bengali Dictionary
Abandon :
---
English to Bengali Dictionary
Abandon : ছাড়িয়া দেওয়া ; ত্যাগ করা
Bangla Academy Dictionary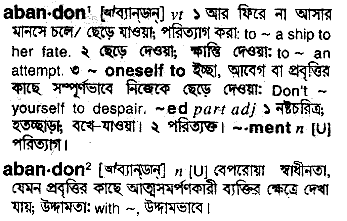 ---
Related Words
abandon
&nbsp
abandoned
&nbsp
abandoning
&nbsp
abandonment
&nbsp
abandons
&nbsp
abounding
&nbsp
abundance
&nbsp
abundant
&nbsp
---
See Words Also In
1.Google-Translator 2.Dictionary.com 3.Merriam-Webster 4.Wikipedia 5.Thesaurus.com
---
Appropriate Prepositions
Angry for (কোন কাজে রাগান্বিত হওয়া): Rahim was angry with me for my having done this.
Entitled to (অধিকারী): He is entitled to a reward for honesty.
Indulge in (আসক্ত): You should not indulge in social media.
Object to (প্রতিবাদ করা): Many people objected to the remarks of the leader.
With a view to (উদ্দেশ্য): I went to hospital with a view to seeing you.
Browse All Appropriate Prepositions

---
Idioms
At ease (in peace or pleasure – শান্তিতে বা আরামে) A man who has enemies can not live at ease.
Hush money (ঘুষ): He offered a hush money to disclose the file.
Make both ends meet (আয় ব্যয় মেলানো): I cannot make both ends meet with my small income.
Pack of lies (ডাঁহা মিথ্যা)—He told pack of lies to prove himself innocent.
Scapegoat (উদোর পিন্ডি বুধোর ঘাড়ে)—He was made scapegoat of the incident.